If you have already submitted a Support Request, please take a moment to review the troubleshooting tips below that may be relevant to your circumstance.
If you have not been able to find a solution to your issue via a Knowledge Base Search, your LemonEdge Support team is ready to assist. Click "Submit a request" at the top of the page at any time to connect with Support Services. Please see our guide here on creating and managing your request(s).
Help us troubleshoot your issue and get you the right type of help by providing text, screenshots, gifs, or even video of your issue. Common items such as log files, data samples, and/or any environment variables also go a long way toward resolving your issue as efficiently as possible. See below for more information.
Including and Attaching Error Messages
Please include the steps you believe led to any error messages you encounter. Time(s), date(s), and number of occurrences should be included as well, if possible.

Error message text (or any other relevant text) may be copied/pasted into a Support Request or saved in the format of your choice & attached to the same. While using the LemonEdge platform, you may copy error messages as shown below: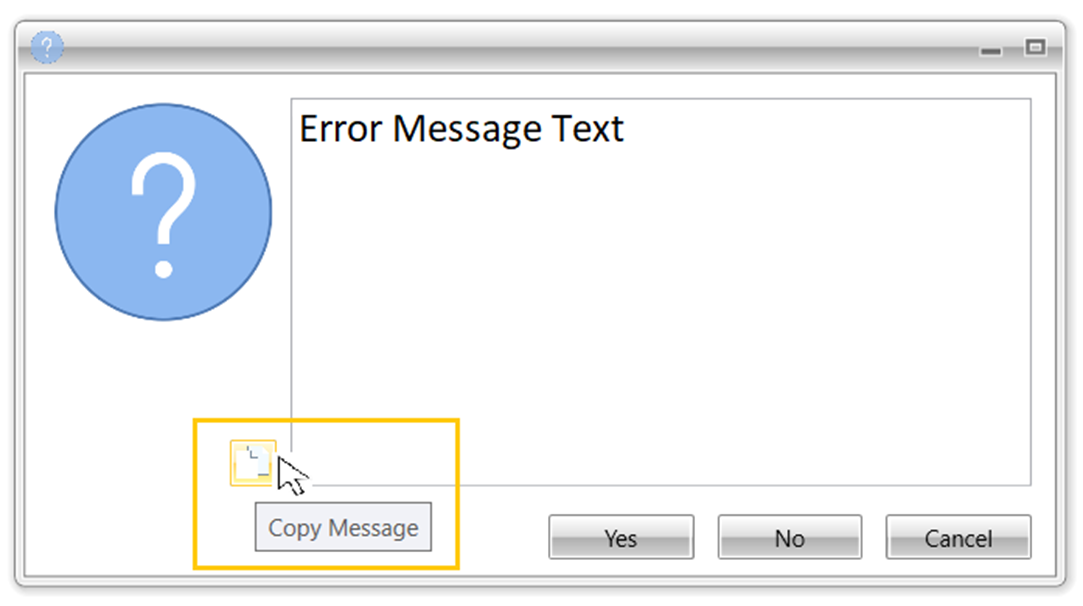 Screenshots are a great alternate if you can't capture the actual text.
Finding your LemonEdge Version
The best way to verify your version is to navigate to the LemonEdge executable file, right-click the file, select Properties, and access the information off the Details tab. In the example below, we have the application installed on C\:LemonEdge and have located the file in that directory: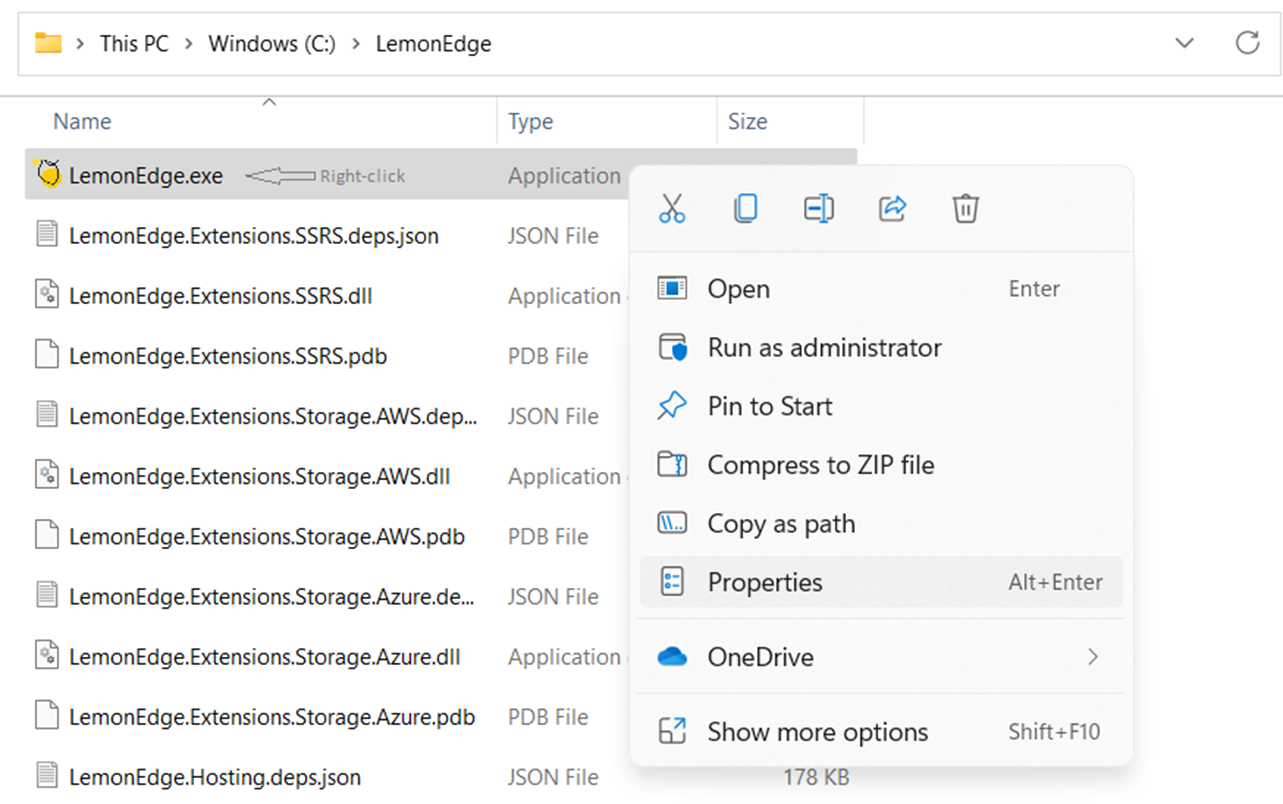 The Product version is on the Details tab of the Properties dialogue box.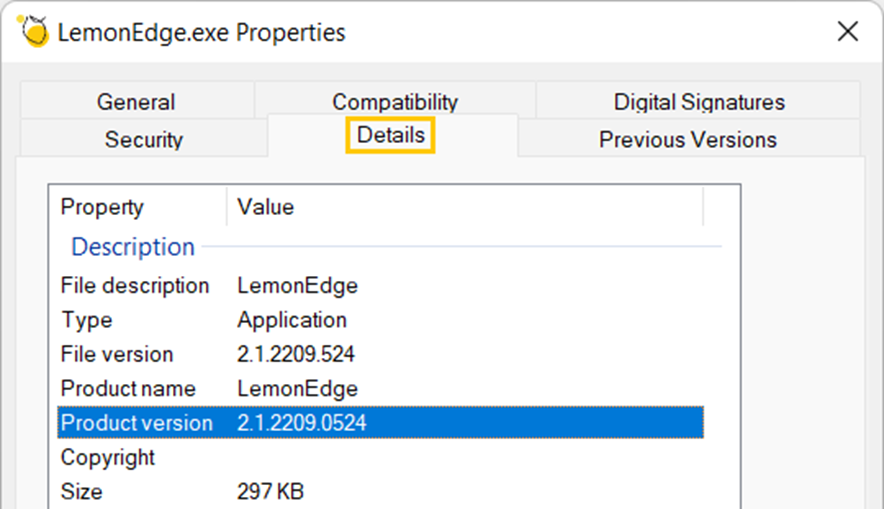 Versions 2.9.0.0 and greater display the Version at the bottom-left of the Startup Login screen:

Finding your Add-In version(s)
Checking for Add-In version(s) can be done within the LemonEdge App. Select "About" from the User Menu: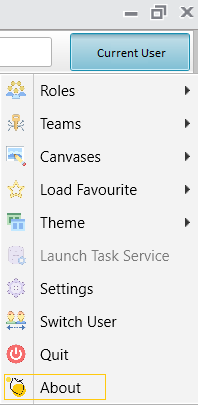 The Add-In version(s) will be listed in this section along with versions of several other components. Please include these in any troubleshooting steps.

Finding Connection Settings
Connection information is key in troubleshooting your issue. If connecting to a service, the URI and credentials identify the exact environment as many orgs have more than one. Local connections have their own authentication elements that may be included. Click the "Setting" icon at the bottom-left of the Startup Login screen to see stored information: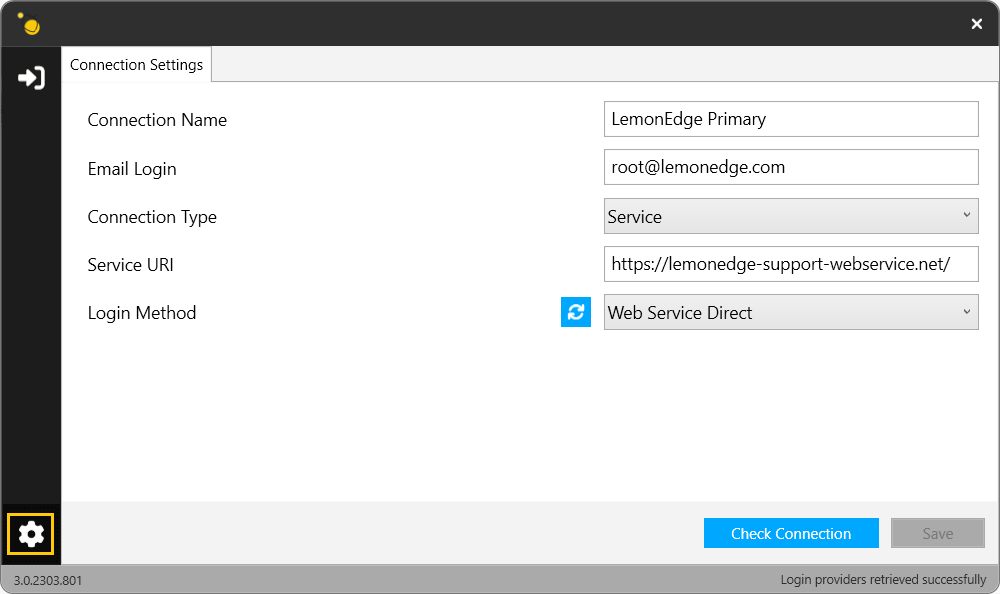 Finding and attaching Logs
Log files are typically stored in your Temp directory as text files. In the example below, we have sorted by date in our C:\Temp directory as to attach the latest file(s).

Finding and attaching Logs (Azure)
Navigate to the Advanced Tools section of your Azure service. This can be found on the left-hand side of the Azure web app page.




From there you can download a zip file of the logs


Providing this level of detail will go a long way with your request. Every ticket may not need this information, but it is a great starting point.